Créer un environnement de soudage sûr
Partager
Heure de diffusion

2016/08/25
Résumé
Créer un environnement de soudage sûr
Créer un environnement de soudage sûr
La mise en œuvre des mesures de sécurité dans l'environnement de soudage n'impliquant les employés et les encourager pas besoin d'être une activité de haut en bas. Pour donner un aperçu peut aller loin dans l'établissement d'une opération de soudage en sécurité et l'entretien. Le choix du matériel fiable de sécurité est également important. Plus durable Les produits durent plus longtemps, ce qui réduit les coûts Les produits de sécurité bien adaptés et faciles à utiliser réduisent également les temps d'arrêt et l'acceptation des travailleurs.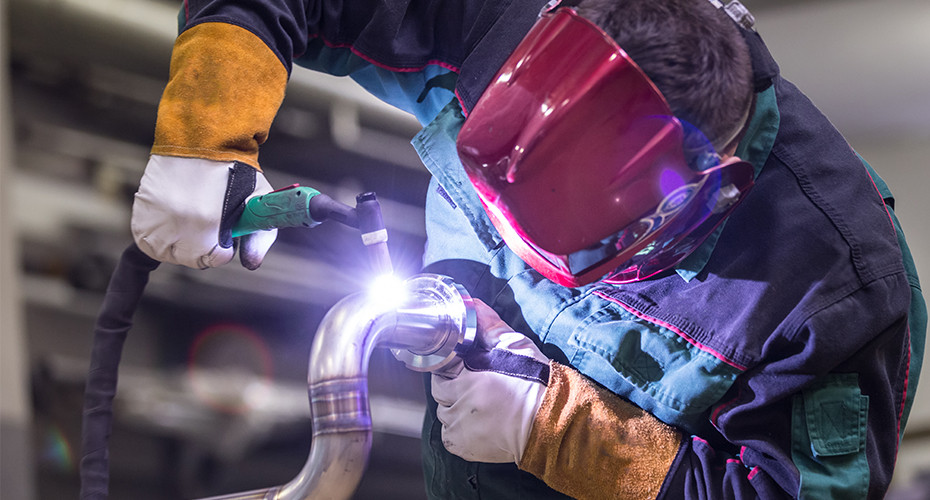 No two welding operations have the same needs. Equipment, processes, and welder skill sets vary, as do a company's safety requirements. Still, employee safety always should be a top priority. Taking the right precautions to protect welders can limit negative effects on production, as well as increase employee acceptance of safety regulations.
The multifaceted afety measures you take do more than just establish and maintain compliance with regulatory guidelines. A safe work environment can save you money by reducing liabilities. It can also help attract and retain skilled welders, which is extremely important considering the shortage of welders is poised to reach approximately 400,000 in the next five years. In many cases, you can directly involve employees in efforts to create a safer welding environment and to sustain it. Such involvement is beneficial to employee morale because it empowers the welders themselves to take a proactive role in keeping themselves safe.
Steps for Improvement
To create a clean, safe, and comfortable welding environment, consider three key steps and implement the proper safety equipment.
Step No. 1: Hazard Assessments. Safety requires planning. Perform hazard assessments to uncover problematic areas within your facility. This assessment should include employees and, potentially, an industrial hygienist. Not only does this practice give you a better understanding of the welding environment, it also encourages both managers and welders to pay closer attention to safety details that may otherwise go unnoticed.
Engage employees in hazard assessments by reviewing recordable injuries and trends with potential safety risks and then working with them to make corrections. Management should also challenge employees to look at overall safety in the weld cell and offer suggestions for improvements.
Step No. 2: Training. Always communicate changes that are implemented as a result of hazard assessments, and train employees appropriately if a process has changed or a new product introduced.
You may want to rely on qualified veteran employees to conduct peer training which, again, encourages positive interaction among employees. In some cases, equipment manufacturers and distribution partners also provide product training for customers.
Step No. 3: Communication. Share findings, changes, and improvements with both management and welders. Frequent safety discussions encourage employee involvement, strengthen relationships within the organization, and make it possible to monitor and evaluate safety initiatives consistently. In the end, stronger communication among management and employees leads to a greater sense of purpose.
Selecting Welding Safety Products
Having the appropriate safety products is imperative in the welding environment. Again, it goes beyond simple compliance—it's a matter of helping the welder achieve greater safety and comfort. Consider the following.
Welding Apparel and Gloves. These items should fit properly and be in good condition. Proper fit helps minimize injuries and encourages employees to continue wearing the gear for other tasks, such as grinding or material handling. Choose items that are tailored to the user for superior fit, like gloves that have a 3-D pattern for maximized dexterity.
It is important to always select the appropriate protection for the application, so be sure to consider the product material type and thicknesses. For example, there are light- and heavy-duty welding jackets and gloves for various welding processes and amperage levels. Involve employees in the selection process; if welders like the products, they are more likely to care for them properly.
Clean and replace welding apparel and gloves per the manufacturer's recommendations, or sooner if needed.
Welding Helmets. Select helmets based on the welding application. Be sure to properly adjust the headgear to provide the best protection and ensure a clear viewing area. This reduces the need for welders to strain their neck to see a weld joint properly, and it prevents stress on the head's pressure points. Always read the owner's manual and follow the instructions for adjustment.
Features like electromagnetic sensing can also help improve safety and comfort, especially if the welder has an obstructed view of the weld joint. This technology operates through sensors that pick up the magnetic frequency of the arc, eliminating interference issues caused by an obstruction. The lens darkens only during welding and stays dark throughout the process.
Welding Respirators. These items are categorized as air-purifying or atmosphere-supplying. Air-purifying respirators have filters and/or cartridges that remove contaminants from the air by filtering them prior to reaching the welder. Atmosphere-supplying respirators provide clean air from an uncontaminated source. An assigned protection factor rating denotes, the workplace level of protection that each respirator is expected to provide when maintained properly.
Specific to welding, be sure to choose respirators that are suitable for the job. Disposable masks must be made of flame-resistant filter media. Half-mask respirators should be low profile so as to fit comfortably under a welding helmet without interfering with a welder's field of vision. Similarly, selecting powered air purifying respirators (PAPRs) and supplied-air respirators with low-profile designs allows for greater operator mobility. Be sure that these are paired with a welding helmet that fits the application requirements. Again, relying on a panel of welders can help with the process and empower them to make the best decision for the workforce.
For both mandatory and voluntary respirator usage, you need to develop a written respiratory protection program that includes information such as:
· Respirator selection.
· Medical evaluations.
· Fit-testing for tight-fitting espirators.
· Use in routine and emergency situations.
· Established schedules for cleaning.
· Procedures to ensure air quality and airflow for atmosphere-supplying respirators.
· Employee training.
Consult with an industrial hygienist for specific details for each welding operation and respirator type.
Welding Fume Extractors. If your company uses fume extraction systems, it is important that welders understand how to use these machines properly to gain the best protection from them.
The fume extraction arm should be positioned at a 45-degree angle above the arc, no more than 18 inches away from the welding area. However, because welders focus so much on quality and productivity, they are not always inclined to make such adjustments to the arm. There are fume extraction systems on the market that offer an extended fume-capture distance (up to 5 feet away) to help; welders can position the arm at the start of welding to gain protection throughout the process.
Heat Stress Equipment. Heat stress is a serious condition for welders that results from high-temperature environments, protective clothing, and the welding arc. It can reduce productivity and increase errors. In fact, productivity lowers by 2 percent for every degree over 77 degrees F.
Refroidissement des produits sur le marché aider à la température corporelle plus faible et d'améliorer les employés bien-être certains dispositifs de refroidissement adapter aux casques de soudage pour fournir le flux d'air constant sur la tête d'un soudeur et faire face ;. Ceux-ci peuvent réduire la température jusqu'à 17 degrés Choisir les vêtements droit. peut aussi lutter contre le stress thermique. Dans les climats chauds, par exemple, choisir des vestes de soudage plus légers qui sont encore capables de fournir le bon niveau de protection.